Faculty of Science and Technology
"Science and technology" is a general term for "science" and "technology." Why do you need to put them together? "Science" pursues the fundamentals of the real world, and includes physics, chemistry and biology, and based on them, "technology" refines technologies that are useful in real life. Only by learning both in a cross-sectoral manner can the comprehensive strength be acquired to serve society more securely.
Unraveling "? (unknown things)" with the power of "science" and create "! (future)" with the power of "technology."
You can share in the excitement of the Faculty of Science and Technology of Chitose Institute of Science and Technology?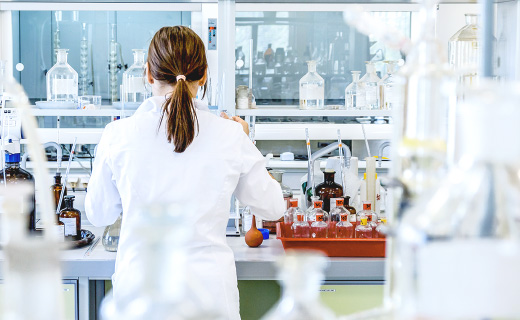 Faculty of Science and Technology comprises nine fields and three departments
To become an engineer who connects society and science/technology, it is important to understand the basics of science and technology.
The university provides a curriculum making it possible for students to study nine fields that form a common foundation to learn the basic subjects of "science," which supports basic research in the natural sciences, and "technology," which is indispensable to shape ideas.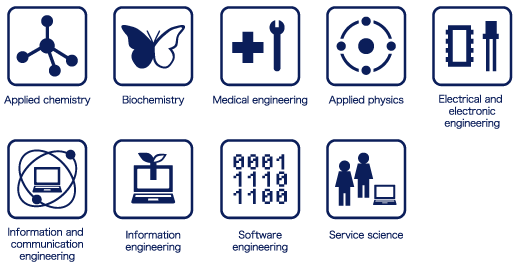 Applied chemistry
The knowledge of chemistry, including the formation, properties and reactions of things, is applied to the development and analysis of new materials. Students study chemistry from the basics through applications.
Bioengineering
Most living organisms practice efficient and logical "creation, mechanism and formation." Students learn to engineer the superior functions of living organisms.
Medical engineering
Students learn engineering theory used in medical practice and medical research. There are high expectations of engineers who understand medical care when they develop medical devices.
Applied physics
To use physics for daily life and technology, students widely study the basics as well as advanced technologies that apply physical phenomena. This area is strongly related to industry and economy.
Electrical and electronic engineering
This is an important science and technology field that serves as the basis of social life. Students learn knowledge and technology related to electronics from basics to applications.
Information and communication engineering
Students learn basic theories and techniques related to computers and communications. The focus is on network building, which is indispensable to the information society.
Information engineering
Various types of information on computers supports daily life and society. Students learn the basics of handling information on computers as well as advanced technologies.
Software engineering
Students learn the necessary ideas to plan, design, and develop software for effective use of computers, and acquire practical programming skills.
Service science
Students learn how to generate new value by creating mechanisms, things, information, etc. that benefit people from the standpoint of users.
Selection of a major in the second year
Department of Applied Chemistry and Bioscience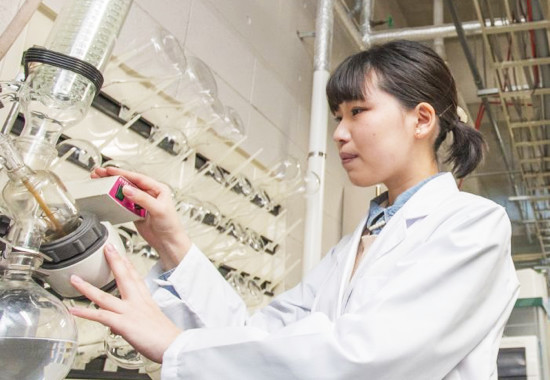 Founded on the science and engineering basics centered on chemistry and biology, students develop the ability to not only be useful in the materials-related and medical fields, but also in a wide range of fields including food, the environment, and energy.
Through a wide range of thematic experiments/practical training and graduation research, students acquire extensive knowledge that can be applied to any field, flexible thinking, and communication skills.
Department of Electronics and Optical Engineering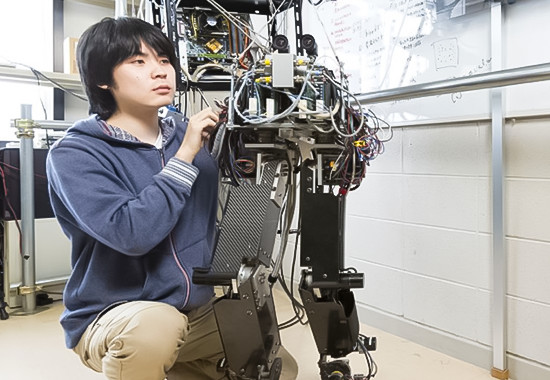 At this department students study the basics of electronics as well as highly specialized optical technology, thereby developing the abilities to create new "craftmanship" and "system building" that can support industrial development and people, including electrical, electronic, information, communication and robot technologies.
Students acquire practical skills through a wide range of experiments and computer training.
Department of Information Systems Engineering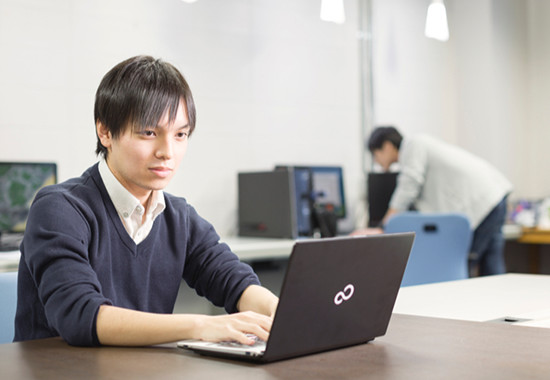 At this department students study information society and ethics, computers and information processing, information systems, information communication networks, multimedia expressions and technologies.
In addition to this knowledge, students learn educational technology, information and communication engineering, and service engineering in a cross-sectoral manner to become engineers who can advance and develop society.
Four years in the Faculty of Science and Technology
The university's curriculum provides students a foundation as professionals in science and engineering who can apply the foundation to study specialized fields, maximizing their potential.

The Faculty of Science and Technology of the university features practical learning that integrates science and engineering in a cross-sectoral manner.
A wide range of human resources required by society, from engineers to business leaders with a strong background in technology are nurtured.
Students acquire the basics in the first year and choose a major as the department where they belong from the second year. In the third year they deepen their expertise and find an interesting theme, and in the fourth year they finally work on their own research.
The curriculum cultivates reliable skills for the future within four years.
The university also implements an "e-portfolio" from the first year. An e-portfolio is a comprehensive student record in which the entire study history and career development of each student is accumulated.
The record is shared between faculty members and the student to provide the best support for the student's studies and campus life.
With the common basic education curriculum that focuses on the first and second years, students acquire basic qualifications common to specialized fields and general knowledge that can be utilized in the real world.
Students select a major in the second year. They are divided into three departments that cross science and engineering, and start specialized education.

After spending their first year searching for a field of interest, students are divided into three departments in the second year and start to receive specialized education.
From the three departments of "Applied Chemistry and Bioscience," "Opto-Electronic System Engineering," and "Information Systems Engineering," students select a department based on their major field of interest or the laboratory they wish to belong to in the future. They study science and engineering in a well-balanced manner depending on their specialty.
While acquiring advanced knowledge in each specialized field, students find the theme they want to study.

In the third year, more specialized education is provided. There are many stimulating opportunities through interacting with seniors and juniors.
In November, students decide which laboratory they wish to belong to for the graduation research that will be a compilation of the studies at the university.
Since students can visit laboratories from their first year, they can find a laboratory that interests them at an early stage. In the third year, there are also employment support programs, such as internships.
Students belong to a laboratory depending on their interests, and work on research activities that form the culmination of their university life.

Full-scale research activities start in laboratories with different atmospheres and research contents.
In each field, students deepen their expertise under the guidance of faculty members. The results of the research summarized as a graduation thesis are presented on campus.
There are many opportunities for presentations and discussions in each laboratory. Accordingly, students can develop communication and presentation skills.
Common subjects (common basic education curriculum)
●
Compulsory subject 
★
Elective compulsory subjects 
■
Elective subjects
General liberal arts subjects
●
Basic Science 
●
Basic Informatics Exercise 
●
Mathematics A 
●
Introduction to Biology 
●
Introduction to Chemistry
●
Introduction to Electronics 
●
Basic Technology 
●
Basic Science and Engineering Experiment 
●
Introduction to Information Technology 
●
Introduction to Physics
★
Data Science 
★
Mathematics B and C 
★
Basic Electronics 
★
Basic Informatics 
★
Basic Chemistry
★
Basic Biology 
★
Mechanics 
★
Thermodynamics 
★
Human Information Science 
★
Basic Fourier Mathematics 
★
Philosophy and the World
★
Ethics and Humans 
★
Mental Science 
★
Introduction to Logic 
★
Modern Socioeconomics 
★
Living and Law 
★
Religion and Science/Technology
★
Living and Politics 
★
People and Society 
★
History of Hokkaido 
★
Introduction to Psychology 
★
Constitution of Japan
■
Elementary Physics 
■
Basic Mathematics 
■
Career Formation A1 and A2 
■
Career Formation B1 and B2
Foreign language subjects
●
English 1A and 2A
★
Basic English 1 and 2 
★
English 1B and 2B
■
Chinese 1, 2 and 3 
■
German 
■
French 
■
Intermediate English 1A, 1B, 1C and 1D 
■
Intermediate English 2A, 2B, 2C and 2D
■
Advanced English 1A, 1B and 1C 
■
Advanced English 2A and 2B 
■
Technical Chinese 1 and 2 
■
Certified English 1, 2 and 3
■
General Sports 1 and 2 
■
Health Science
Faculty members in charge of common education